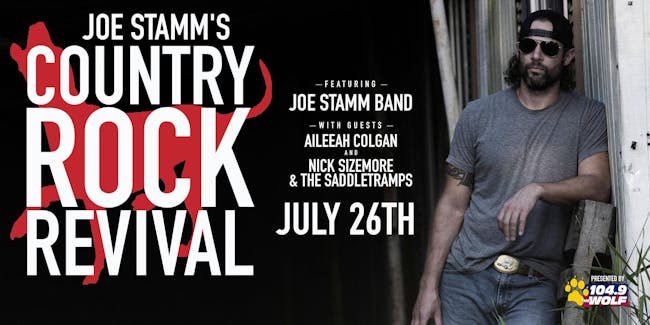 104.9 The Wolf & Shelton's on Farmington Presents
Joe Stamm Band
Aileeah Colgan
$12.00 - $15.00
Sales Ended
Joe Stamm's Country Rock Revival featuring Joe Stamm Band with guest Aileeah Colgan and Nick Sizemore & The Saddletramps on Fri. July 26th.
Doors: 7:00pm / Show: 8:00pm
$12 (Advance) / $15 (Day of Show)
Ticket Prices listed do NOT include additional Ticket Fees added at online checkout & box office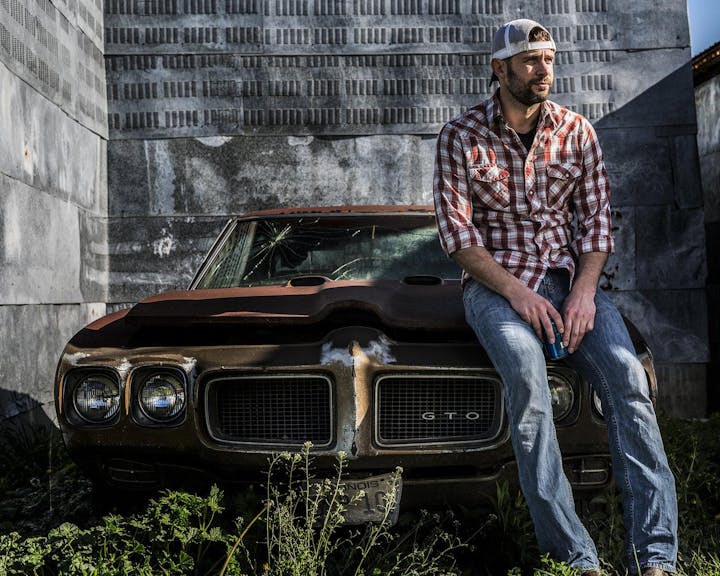 JOE STAMM BAND
The Joe Stamm Band (JSB) is a high energy country rock group rooted in the Black Dirt of the American Midwest. Born and raised in the fields and fence rows of central Illinois, Joe and the band play a soul pumping brand of country rock uniquely their own. In 2018, DirtRoadAnthems.com told their readers, "If you are looking for a great new country/rock/Americana band to listen to, [Joe Stamm Band] is the perfect one." JSB songs are laced with rural American imagery, hard-driving guitar, and songwriting that invites listeners into a deeply personal, authentic life experience.
Joe's early life revolved primarily around football, earning a scholarship to play quarterback at Northern Illinois University. Injuries, however, cut a once promising career short and sent him searching - searching for a new identity, new hobbies, new pursuits and points of focus. He poured himself into academics, hunting, his childhood faith, partying & burning candles at both ends. Gradually, music and songwriting dominated Joe's focus and stories began to emerge – not just his but yours, ours. Over time, a community of musicians & fans took notice. A band formed & audiences started filling venues.
Joe has now opened for acts such as Travis Tritt, Blackberry Smoke, Jamey Johnson, Chris Knight, Reckless Kelly, the Kentucky Headhunters, JJ Grey & MOFRO, Easton Corbin, Jerrod Niemann, Parmalee, among others, even sharing the bill with personal heroes Willie Nelson and Kris Kristofferson at the Tailgates and Tallboys Music Festival. Joe Stamm Band is anchored by long time members Joe Stamm, at guitar & lead vocals, and Jon Byler Dann playing bass guitar and singing backup. Bruce Moser on drums and Dave Glover on guitar fill out the five-piece group. Their focus is singular – play great music for as many people as possible. Joe acknowledges, "We started this thing in the grassroots of central Illinois. And we plan to stay firmly rooted. Roots and growth are dependent on one another. We trust our fans will keep us centered on both."
JSB released a new EP, titled "Dandelion Woman," on October 26, 2018. The EP will feature 5 songs, including the unreleased title track, as well as a duet with Nashville based Tasji Bachman, entitled "First Saw You" (released as a single June 1). The band's previous two releases, both in March of 2018, are "Fetch Me," a hymnal tribute to Joe's family heritage, and "Midwest Girl," an country rock anthem to women of the American Midwest. JSB music is available on all digital music platforms (i.e. iTunes, Spotify, etc.).
Joe Stamm Band is proudly the official house band of 104.9 the Wolf and sponsored by Last Chance Bar & Grill.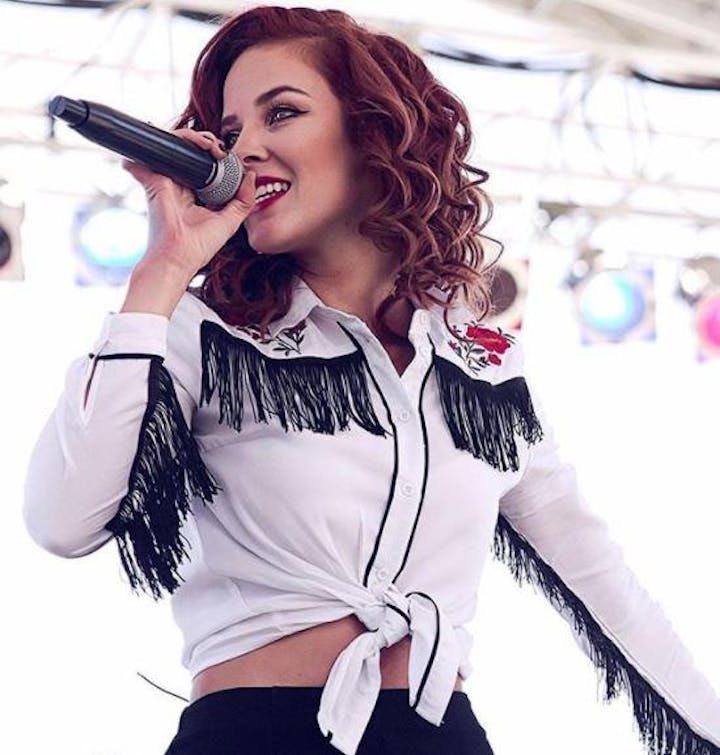 AILEEAH COLGAN

Aileeah Colgan is the daughter of a Baptist-preaching father and a gospel-singing mother. Born in Missouri; raised in Florida; and currently residing in the cornfields of the Midwest - Aileeah's songwriting tells the stories of love, life, and loss she's experienced along the way.

Aileeah grew up singing in gospel choirs with her siblings and fell in love with the music of classic country artists like Dolly Parton, Loretta Lynn, and Johnny Cash. She combines her love of traditional country with today's soulful pop songwriters, to create songs that are rooted in country values and twang, with percussive rhythm and soul.

She and her experienced musicians make up a 6-member country performance with exceptional original music, and crowd-favorite covers.

Since the debut of her first album, Aileeah has accomplished many personal and professional milestones:

Venue Information:
The Monarch Music Hall
8102 N University Street
Peoria, IL, 61615